Posted on 03/23/2018
If you have cracked or dull teeth, you may suffer from low self-esteem. If this is the case, and you no longer want to be embarrassed by your teeth, a smile makeover may be a worthwhile consideration. A smile makeover begins with a dentist looking at your entire mouth, discussing your concerns, and choosing procedures that will improve your smile. Afterward, you will want to show off your pearly whites instead of hiding them.
What are the Benefits of a Smile Makeover?
A smile makeover will restore both function and aesthetics to your mouth. For example, if you have a misaligned bite, we can correct the problem so you can chew properly and smile without being self-conscious. Damaged or crooked teeth can also be repaired, and missing teeth can be permanently replaced. After a complete smile makeover, you will enjoy a beautiful smile, enhanced tooth structure, better jaw health, and improved self-confidence.
What Procedures are Involved in a Smile Makeover?
A smile makeover usually consists of numerous cosmetic procedures.  For example, a patient may receive dental implants, veneers, Invisalign, or whitening treatments. Before forming a plan of action, a dentist will examine your gums, teeth color, and the overall condition of your mouth.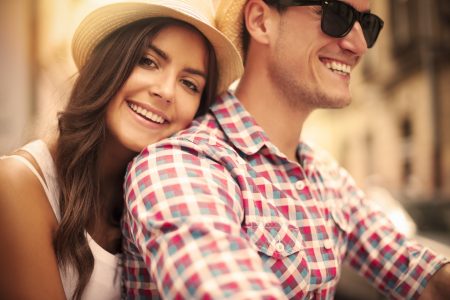 Color. If your teeth are stained, or you have amalgam fillings that bring a damaged look to your teeth, the color can be improved with white fillings or a whitening procedure. Thanks to today's technology, it is possible to perfectly match the color of your existing teeth. A professional whitening treatment provides faster and better results than an OTC product or kit. In-office procedures include the application of high-dose hydrogen peroxide. When performed correctly, it is possible to whiten teeth a few shades after one visit. Also, veneers may be placed over teeth to improve their shape and color.
Alignment and Spaces. If your teeth are crooked, or your mouth has visible gaps, we can correct this as well. Invisalign is a set of clear molded braces that straighten teeth without the use of traditional metal brackets. Clear trays are custom fit and work to correct misalignments.  It is possible to wear them without people noticing, and remove them for cleaning. Also, veneers may be applied to teeth that are chipped, leaning, or imperfect in other ways.
Missing Teeth. One of the most common ways that a smile makeover improves a person's appearance is by replacing missing teeth. If you have spaces in your mouth, it may be impossible to eat or speak correctly. Dental implants are permanent solutions that look and function like real teeth. They are implanted into the jaw, which means that they are not removable like dentures. Dental crowns are placed over the implants to make them look just like your natural teeth. These may also be used as part of a bridge. Both bridges and crowns are cemented on top of existing teeth to repair them. Bridges are used to fill spaces where more than one tooth is missing.  By filling in these gaps, your jaw and facial shape can be preserved. Crowns offer strength to damaged teeth as well.
Bone Reshaping.  If you have lost one or more of your teeth, there will be a hole left behind in your jawbone. Your gums will eventually heal, but the bone will encounter various highs and lows. These can cause dentures or similar restorations to rub and cause soreness. In time, the bone will become lost. To smooth the bone, a reshaping surgery, or alveoplasty, may be necessary.
Targeting Teeth in a Smile Makeover
A smile makeover targets your teeth so that they look aesthetically pleasing. It is important to pay attention to the smile line. This goes along the upper teeth and should follow the curve of your lips during a smile. It is essential to adjust tooth length and proportion as well. When a person is young, his or her teeth are longer. With time, teeth begin to wear down and become shorter. Veneers can restore length. Also, it is possible to modify the gums. Gum tissue reshaping helps people who have uneven, obtrusive or receding gums.
Besides leaving a smile looking better, it also helps to prevent periodontal disease. When gums are receding, teeth are left exposed and pockets commonly develop. These pockets accumulate bacteria that can cause severe problems.
Who is a Good Candidate for a Smile Makeover?
Anyone looking to improve their oral and overall health may take advantage of a smile makeover. If you are unhappy with the look of your teeth, Dr. Imm, who specializes in cosmetic dentistry, can help. He can meet with you to do a thorough examination of your teeth and mouth and discuss exactly what results you are looking for in the smile makeover.
How to Maintain Results of a Smile Makeover
After undergoing a smile makeover, a patient must change his or her oral hygiene routine in order to maintain positive results. It is essential to brush with a non-abrasive toothpaste and to floss each day. Removing debris from between teeth will elongate the lifespan of any cosmetic procedure and keep tooth decay from starting.
If you receive composite fillings or crowns, it is best to avoid mouthwash that contains alcohol. This is known to have negative effects. Also, we will advise you to avoid foods that are packed with sugar and items that are known to cause staining (coffee, cigarettes, etc.).
Finally, please avoid biting or chewing hard objects (such as ice). Even though cosmetic restorations are sturdy, the best way to ensure a long life for your new smile is to act with care. Your dentist will be able to provide more advice when you meet so that you can easily maintain the results of your smile makeover.
Before you decide to pursue a smile makeover, it is vital to understand what can realistically be accomplished. At 5 Points Advanced Dentistry, we offer all patients previews of expected results. We use state-of-the-art imaging technology and various mock-ups so that it is possible to see all of the improvements that a smile makeover will bring. We provide customized plans for all of our patients so that individual needs are targeted. For more information, call our office today.