Posted on 04/13/2018
Most of us would agree that your most magnetic facial feature is your smile. Since the field of dentistry has seen tremendous advances in technology and procedures to help restore and maintain great smiles, you don't have to worry about having chipped, uneven, stained or crooked teeth on your wedding day, graduation, or any other upcoming event! 5 Points Advanced Dentistry offers procedures that can help you smile with confidence as you prepare for a graduation or a wedding. Dr. Imm will help you in the selection of the most suitable options, depending on your desired results.
Teeth Whitening At Our Office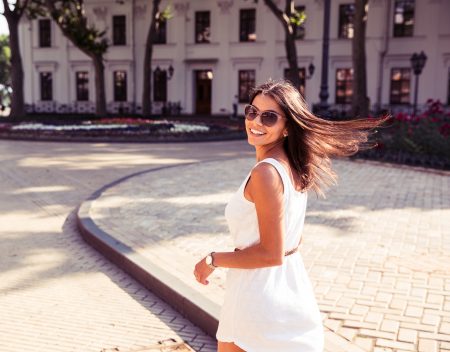 Teeth whitening is probably the easiest way to make your smile stand out and help you feel more confident attending any upcoming events. There are many different options for teeth whitening. In our office, we use the ZOOM! Whitening system to help our patients have white smiles. It is very convenient for busy patients, as we can brighten and whiten your smile by several shades in just a single visit! The ZOOM! system is suitable for almost anyone and we customize the treatment to help you achieve the results you want. Schedule your in-office teeth whitening session today at 5 Points Advanced Dentistry to enjoy the benefits of Zoom!® advanced teeth whitening technology!
At-Home Teeth Whitening Kits
There are also other options if you don't want to get your teeth whitened in the office. If you would prefer to whiten your teeth gradually in the comfort of your own home, talk to us about the DayWhite® or Opalescence® Boost teeth whitening kits. You can wear a tray filled with a whitening solution when it is most convenient for you and see results within 10 to 14 days. We have many busy patients looking for a simple and effective teeth whitening solution that love their results with our take-home whitening systems.
Dental Crowns
The purpose of dental crowns is to restore the normal size, shape, and strength of your tooth, and also to cover any imperfections in your teeth. Unlike teeth whitening that cleans the teeth, a crown covers the tooth. A crown can make teeth look great and feel stronger. If you have a tooth filling you don't want to be seen, for example, a crown can cover it up, whereas teeth whitening cannot. A crown is a great way to cover teeth that are out of position, uneven, or discolored.
Do you have weak teeth that you and your dentist are concerned they might break? Dr. Imm can prepare a crown to prevent brittle teeth from chipping or breaking, as well as to restore already broken teeth. This is a great treatment option that allows you to keep your natural tooth, but ensure that it will be stronger and aesthetically pleasing. There are several materials that are used to make crowns and they range from very strong to very aesthetically appealing. With your help, your dentist will choose the right one for you. The crown is custom-made to fit your tooth and goes over top of the natural tooth. Essentially, it looks like a thimble and it is cemented to your tooth. If a crown is recommended by your dentist, then it is the chosen procedure to solve the dental issues listed above. Always remember that the primary objective of the dentist is to ensure that you have a healthy smile for life!
Bridges and Implants
Do you have missing teeth that are affecting your confidence in your smile? Or do you have a hard time chewing or speaking due to a gap in your teeth? To replace missing teeth, there are two types of replacement procedures: an implant and a fixed bridge. Bridges or dental implants are used to fill in this space and help you to be more confident smiling as well as reduce discomfort when you are eating and drinking.
In a fixed bridge replacement procedure, an artificial tooth is used to replace the missing tooth. For bridges, the restoration can use alloys, gold, porcelain or combinations of those materials, and it is hooked to the teeth to close the gap for support. It is a great alternative because it looks great and it can even fill the space of several missing teeth.
Implants are installed by placing a titanium fixture directly in the jawbone and screwing in a fully-functional fake tooth into your gums. They can take some time to heal, however, implants are a great permanent solution for tooth loss that can give you confidence smiling, as well as eating any type of food. You can have no fear of biting into an apple or an ear of corn after dental implants!
The success of an implant or a bridge depends on the foundation of the teeth, the gums, and the jaw bone. It is important to keep your gums, teeth and a jaw bone healthy to help these procedures be successful!
What's the best procedure for me?
The decision of which procedure to go for will be different for every patient, and cannot be made before visiting your dentist! The final decision is made after your dentist has examined your mouth and spoken to you about your desired outcomes, and any questions or concerns you have. Each of these procedures has different results, costs, recovery, and time associated with them. But before you go into your appointment, it's great to know what options you have and help yourself become educated on the different procedures we have available! We are always more than happy to discuss each option in detail and advise you on what we would suggest for your individual treatment plan.
No one wants to feel uncomfortable smiling, especially with all of your upcoming spring and summer events! We love transforming our patients' smiles and getting to see them become excited to show them off! Schedule your visit with us today to discuss your ideal results and how we can get you there! We look forward to speaking with you about your vision for your smile!